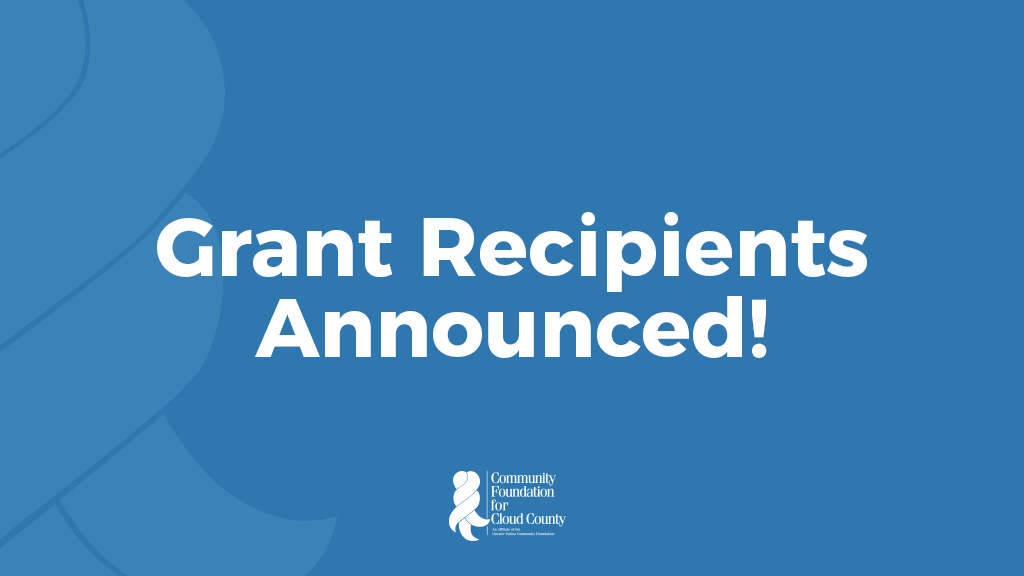 Over $30,000 in Grants Awarded!
The Community Foundation for Cloud County (CFCC) grants committee met October 16, 2020 and ratified or awarded the following grants totaling $37,213:
Seize the Moment Fund – a $490 grant to USD # 333 for PAUSE PAWS speaker series.


Full Court Press for Progress Fund – a $2,751.71 grant and a $2,688.62 grant to the City of Concordia to assist with the costs of redoing the tennis courts, basketball courts and build two pickleball courts.


Blosser Foundation Donor Advised Fund – a $2,000 grant to USD # 333 to provide assistance to needy students to take dual-credit courses at Cloud County Community College.
Bruce and Michele Graham Donor Advised Fund – a $250 grant to North Central Kansas Teens for Christ for their building purchase. `
Chavey Charitable Fund – twelve grants totaling $9,783 (a $489.15 grant each to Boys Town, Catholic Medical Mission Board, Cloud County Resource Council – Food Bank, Mercy Home for Boys and Girls, Sacred Heart Southern Missions, and St. Joseph Indian School, Nazareth Convent & Academy Inc.; a $978.30 grant each to Our Lady of Perpetual Help Parish, St. John the Baptist Catholic Church – Clyde RE supplies, St. John the Baptist Catholic Church – Clyde scholarships and Notre Dame Scholarship Trust; and a $2,445.75 grant to Unbound).
Concordia Lutheran Church Fund – a $10,000 grant to the Concordia Lutheran Church for grant making.
Broadway Plaza Operating Fund – a $750 grant to paint, supply and operate a Santa Mailbox.
Dane G. Hansen Community Grant Fund – a $5,000 grant to the North Central Teens for Christ to assist with a new roof; a $2,500 grant to Cloud County Resource Center for the Food Bank's Thanksgiving Food Boxes program (200 boxes); and a $1,000 grant to the Cloud County Historical Society Museum for a computer and graphics software programs.
The Community Foundation for Cloud County considers grant applications on a monthly basis the following month except for June of each year.